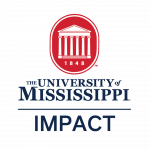 The University of Mississippi's Improving Mississippi Persistence and Completion Together (IMPACT) Program was established in 2021 through support from the Woodward Hines Education Foundation. The program seeks to improve outcomes for collegiate Mississippians by increasing access to one on one coaching from professional advisors and peer mentors, providing funding for participants to participate in engaged learning opportunities, and assisting participants with completion grants to help reduce financial barriers to staying in school.
IMPACT functions as a partnership between the Center for Inclusion and Cross Cultural Engagement, Center for Student Success and First Year Experience, Office of College Programs, and Office of the Provost that seeks to support the success of participating students. Students are selected for participation for a variety of reasons that support the University's commitment to closing opportunity gaps at the University of Mississippi.
To learn more about the IMPACT Program, explore this website and/or contact us at impact@go.olemiss.edu.